About Us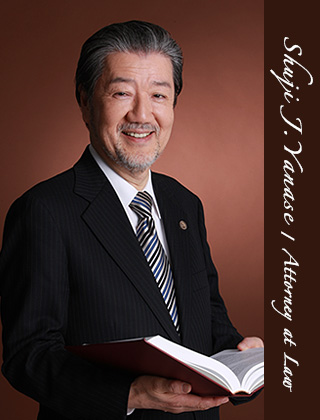 Shuji J. Yanase is available for advising on dispute resolution, M&A, and crisis management.
He is available to accept appointment as an arbitrator or Mediator.
Shuji J. Yanase has been practicing law for over forty years, and his principal areas of practice have been international financing and securities; cross-border M&A; joint ventures and other international transactions, and include, since late 1990's, international dispute resolution.
He served as Chairman of Nagashima Ohno & Tsunematsu law firm in Tokyo (2000–2005), and as Of Counsel at the firm (2006–2014). In 2014 he accepted the role of President of a company ("OK Corporation") operating a chain of supermarkets in the Tokyo metropolitan area and since then has accumulated his experiences in business as President (2014–2016) and Executive Vice-Chairman (2016-2017) of that company.
He is a member of the Board of Visitors of the Columbia Law School since 2002.
He is a member of Rotary International (Tokyo Ebisu Rotary Club), and is the founder of S.J. YANASE FOUNDATION, which was established in 2015 in Singapore for charitable purposes.
Office: Yanasé
Address: 1-18-16, Hachimanyama, Setagaya-ku, Tokyo 156-0056 JAPAN
Admissions:
Admitted to Practice:
Japan (1968)
A member of the Tokyo Bar Association
Languages:
Principal Areas of Practice:
General corporate
Dispute resolution
M&A
Joint ventures
International transactions
Crisis management
Educational Background:
LL.B., University of Tokyo, 1966
LL.M., Columbia University, School of Law, 1972 (as a Grantee of Fulbright Scholarship of the United States)
Overseas Traineeship:
Jones Day (formerly Jones, Day, Reavis & Pogue), Cleveland, 1972
Law Firm Administration:
Co-founder of Tsunematsu Yanase & Sekine (established in 1988) and its Managing Partner from 1992 to 1999 (The firm was one of Japan's most distinguished international finance and securities law firms)
Chairman, Nagashima Ohno & Tsunematsu (2000–2005) (This firm was formed in 2000 by the merger of Nagashima & Ohno and Tsunematsu Yanase & Sekine, to create the first large-scale law firm in Japan.)
Of Counsel of Nagashima Ohno & Tsunematsu (2006–2014)
Professional Business Experience:
Advising lead managers or issuers (including sovereign issuers, the Metropolis of Tokyo and other municipalities, and banks and manufacturers) of equity or debt securities in Euro-dollar market, in the United States or, in case of non-Japanese issuers, in Japan, in 1970's and 1980's (including assistance in developing prospectus and other disclosure documents describing issuers' businesses and risks associated therewith)
Assisting banks and other companies in 1990's and early 2000's in securitization transactions; in all cases including negotiations of relevant agreements
Joint ventures, licensing, and other international transactions; including mergers and acquisitions
Advising mainly Japanese manufacturers and financial institutions in connection with their overseas operations, including negotiations of joint venture agreements, license agreements or distributorship agreements and negotiations of M&A agreements
Acting as counsel to Japanese companies in litigations in countries outside Japan (including the United States, Germany, France, England, Colombia and India) and in international arbitrations
Professional Service:
Country Reporter for Japan on the Board of Reporters of the Institute for Transnational Arbitration for International ADR.co., a website sponsored by ITA and Kluwer Law International for publication of information on international arbitration (2001–2014)
A regular participant in the Symposium on Building the Financial System of the 21st Century — an Agenda for Japan & the United States (2002–2014)
Member of the Operating Committee of the Dispute Resolution Center of the Tokyo Bar Association (2004–2014)
Advisory Counsel to the Japan Arbitrators Association (2005–2014)
Chairman of the Japan Financial ADR/Ombudsman Study Group (2007)
Executive Vice Chairperson of the Capital Markets Association for Asia (2010)
Legal Counsel to the Tokyo Stock Exchange Group for Asian Bond Market Forum (ABMF) initiated by the Financial Ministers of ASEAN +Three Countries (2011–2014)
Co-Chair of the Research and Advisory Group For Asian Inter-Regional Professional Securities Market Self-Regulation (2011–2014)
Adviser for Forest Breeze Law Offices in Tokyo (2017-2020)
Adviser for T&K Partners (since 2017)
Chairman & Director of Capital Market Association for Asia (CMAA) (since 2018)
Adviser for Legal Office TEN (since 2019)
Corporate Service:
Outside Corporate Auditor of Hogy Medical Co., Ltd., Tokyo Japan (a company listed on the Tokyo Stock Exchange) (since 2007)
Outside Director of OK Corporation, Tokyo Japan (2006–2014)
President & Representative Director of OK Corporation (2014–2016)
Vice-Chairman & Representative Director of OK Corporation (2016–2017)
Director of OK Corporation (2017-2021)
Outside Member of the Corporate Ethics and Governance Committee of Snow Brand Milk Products Co., Ltd. (currently MEGMILK SNOWBRAND Co., Ltd.), a company listed on the Tokyo Stock Exchange (2008–2014)
Member of the Board of the Insurance Ombudsman Institute of foreign insurance companies in Japan (2010–2014)
Member: 
Member of the Board of Visitors of the Columbia Law School (since 2002)
Member of Japan Association of the Law of ADR
Member of Japan Association of Arbitrators (JAA)
List of Arbitrators / Mediators:
Dispute Resolution Center of the Tokyo Bar Association

Japan Commercial Arbitration Association (JCAA)

( 2004–2014, Application for Relisting expected after the withdrawal in 2015)
Kyoto International Mediation Center
Permanent Court of Arbitration of Slovenia (List of Foreign Arbitrators)
Academic / Educational:
Professor (part-time) of the Hosei University Law School in Tokyo, teaching Private International Law, International Business Transactions and International Civil Procedures (2005–2011)
Part-time Lecturer of the Sophia University Law School to assist International ADR Workshop (since 2007)
Visiting Senior Fellow and Professor of Waseda University, the Waseda University's Global COE (Center of Excellence) project for creating a new corporate legal framework for a matured civil society (2009–2011)
Judge of the Inter-College Negotiation Contest carried out in the English language in Tokyo (since 2007)
A regular participant in the Cross-Border Investment M&A, sponsored by the New York University Stern Business School, the Beijing University Guanghua School of Management and the Cambridge University Judge Business School (since 2009)
Activities in 2000 through 2014, included frequent visit to law firms and law schools in the United States and England to keep contact with such institutions as Chairman or Of Counsel of Nagashima Ohono & Tsunematsu, and speaking at U.S. law schools, including Columbia, Chicago and Duke, as well as at Hosei University Law School, Sophia University Law School, Keio University Law School and the Waseda University in Tokyo Japan on a variety of subjects of interest to their students .